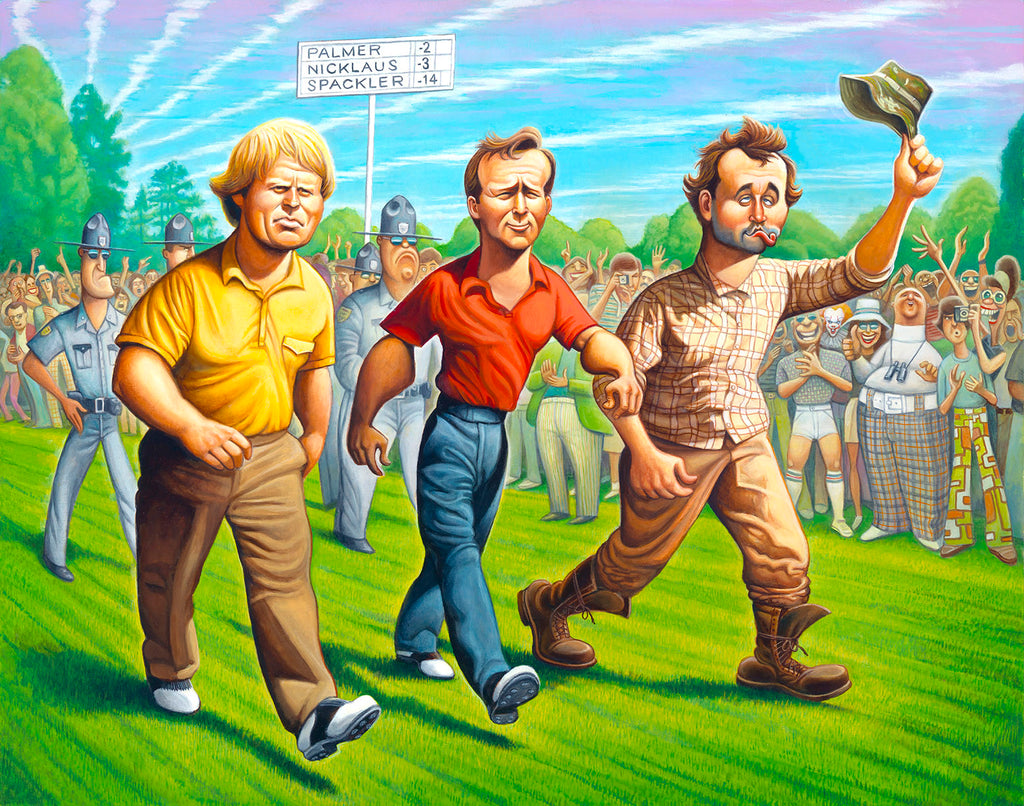 David O'Keefe
The Miracle at Augusta Tribute
22"x28" Fine Art Print signed by the Artist.
26"x33" Limited Edition giclee on canvas signed and numbered by the Artist.
Miracle at Augusta
David's Inspiration:
This painting takes the famous "Cinderella Story'' scene from Caddyshack into a whole new dimension, where I imagine Carl Spackler didn't just come from "out of nowhere'' to become the Masters Champion, he did it while beating two golf legends, Jack Nicklaus and Arnold Palmer. It's almost a takeoff on "The Big 3'' but with Spackler instead of Gary Player. 
It's about who is this guy who is with these two golf legends and he's 14 under! He's a complete unknown, he's a former greenskeeper.
Spackler beat these guys when they were at the top of their game, at such a huge sporting event, it's just amazing.
In the background the "normally reserved Augusta crowd is going wild'' and state troopers are following the three as they are walking toward the 18thgreen.  Spackler has a comfortable lead over the two legends and he's nodding to the crowd and tipping his hat.
Everything about the painting says the 1980s. Caddyshack was released in 1980 and Nicklaus won his sixth and last Masters in 1986. The people in the crowd are all wearing their 80s clothes, they are as accurate and as garish as possible.
There's a guy in super-short shorts and another in loud plaid pants (kind of like the pants Nicklaus wore in 86') and one in bell bottoms made with a wild design. (Someone in his family sewed them from a Simplicity pattern.)
Spackler is wearing his greenskeeper outfit, even his boots, not golf shoes. And he has tears in his eyes.
What happens next, Caddyshack and golf fans know by heart. The Cinderella boy lines up his last shot, about 195 yards, and "it looks like a miracle - it's in the hole.'' 
---
More from this collection