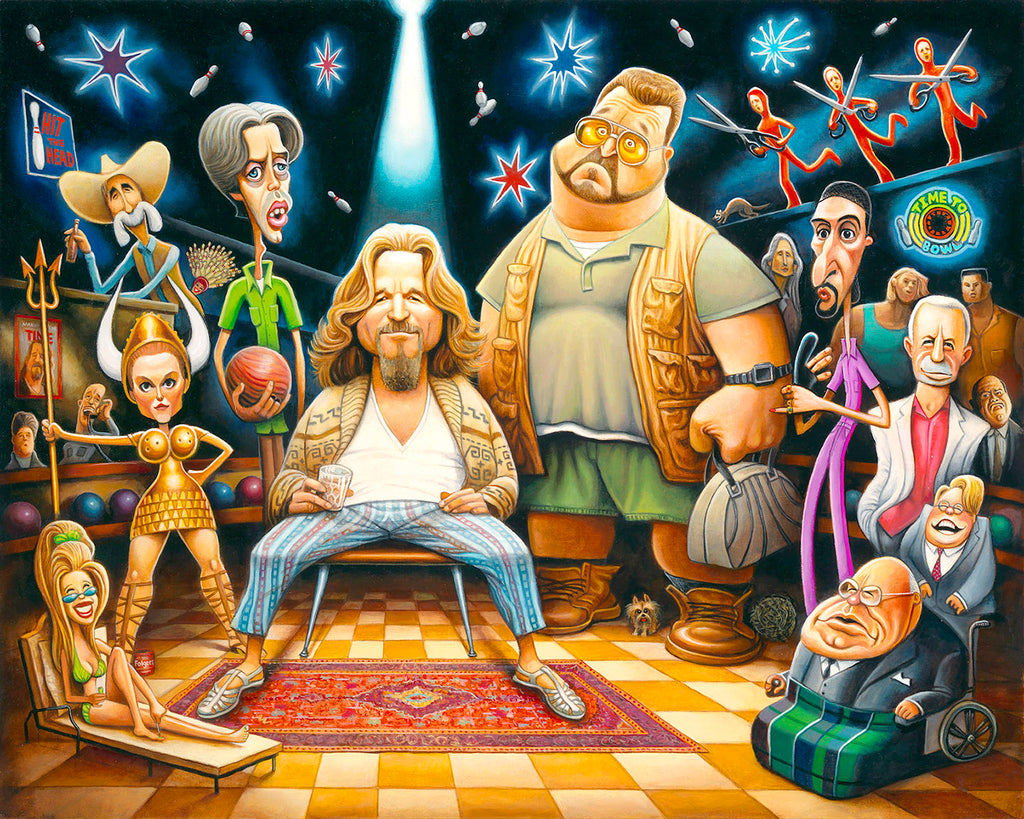 David O'Keefe
Tribute to The Big Lebowski
22"x28" Fine Art Print
26"x33" Limited Edition giclee on canvas signed and numbered by the Artist. 
David's Inspiration
"The Big Lebowski'' has been on my bucket list, the short list of movies I have to paint, like "The Godfather. '' The first time I saw it, it gave me anxiety, I didn't like it. The second time I saw it, I couldn't stop laughing.
The Coen brother's movie did not do well at the box office when it was released in 1998 and got mixed reviews, but over time the reviews have gotten better and it's now a cult classic with festivals in its honor and tons of fans.
I wanted the painting to encompass all the characters, because each character is so strong. It's very much like "Caddyshack,'' with a bunch of quotable lines. When you go back and say the lines you actually say it in the voice of the character who says it in the movie.
The setting for the painting is the bowling alley with references to other places like the Dude's house (rug), the big Lebowski's house (Time magazine cover) and the bowling dream sequence (starbursts, nihilists with scissors, girl with bowling pin hat).
Jeff Bridges as the Dude is in the center, he's the focal point of the painting. He's sitting with his legs spread – in the movie he does that all the time – holding a Caucasian, wearing his sweater and his Jellies. He's cool, he's in his own world, just relaxed. His mouth with its half-smile, a little white Russian on his lip, it was the very last thing I painted. It's almost like a Mona Lisa, not quite a smile. His feet are on the rug, it really ties the painting together.
The Dude has got a light shining on him from above and all the other characters are in an angle towards him. Closest to him are the main characters: on the right, Walter Sobchak (John Goodman), Jesus Quintana (John Turturro), Jackie Treehorn (Ben Gazzara), Brandt (Philip Seymour Hoffman), Jeffrey "the big" Lebowski, (David Huddleston); and on the left, Bunny Lebowski (Tara Reid), Maude Lebowski (Julianne Moore), and Theodore Donald "Donny'' Kerabatsos (Steve Buscemi).
More minor characters are in the background, from left to right: Little Larry Sellars (Jesse Flanagan), Knox Harrington (David Thewlis), The Stranger (Sam Elliott), the three Nihilists (Peter Stormare, Flea, Torsten Voges), Smokey (Jimmie Dale Gilmore), Blond Treehorn Thug (Mark Pelligrino), Woo, Treehorn Thug (Philip Moon) and Da Fino (Jon Polito).    
Other items of note in the painting: a Folger's coffee can by Maude's right leg, so Donny is in the painting twice; Cynthia's dog that Walter was sitting for while she was in Honolulu with her boyfriend is between his legs, to the right of the dog is a tumbleweed, over Walter's left shoulder is the marmot from the bathtub scene. 
Walter was the most fun to paint. He gets funnier every time you watch the movie and he was probably the main reason it gave me angst the first time I saw it. You would just be mad at him all the time, like when he brought his tighty whities to the ransom drop. The expression on his face is from the scene where you first see John Turtorro's character and Walter says, "Eight-year-olds, Dude.''
There's so many times in the movie when something is so funny, and you don't even know why it's funny, it's just weird and insane and hysterical. I put in a lot of the details: Jesus Quintana's pinkie has red fingernail polish and he's wearing three rings like in the first scene when you're introduced to his character, Maude is in her Viking outfit from the dream sequence since she's such a strong character,  Brandt is making that embarrassed laugh that he does when he's going along with his job, Bunny is painting her toenails and The Stranger is sitting in the bowling alley bar, getting ready to say the last line of the movie: "Say friend, ya got any more a that good sarsaparilla?''   
---
More from this collection