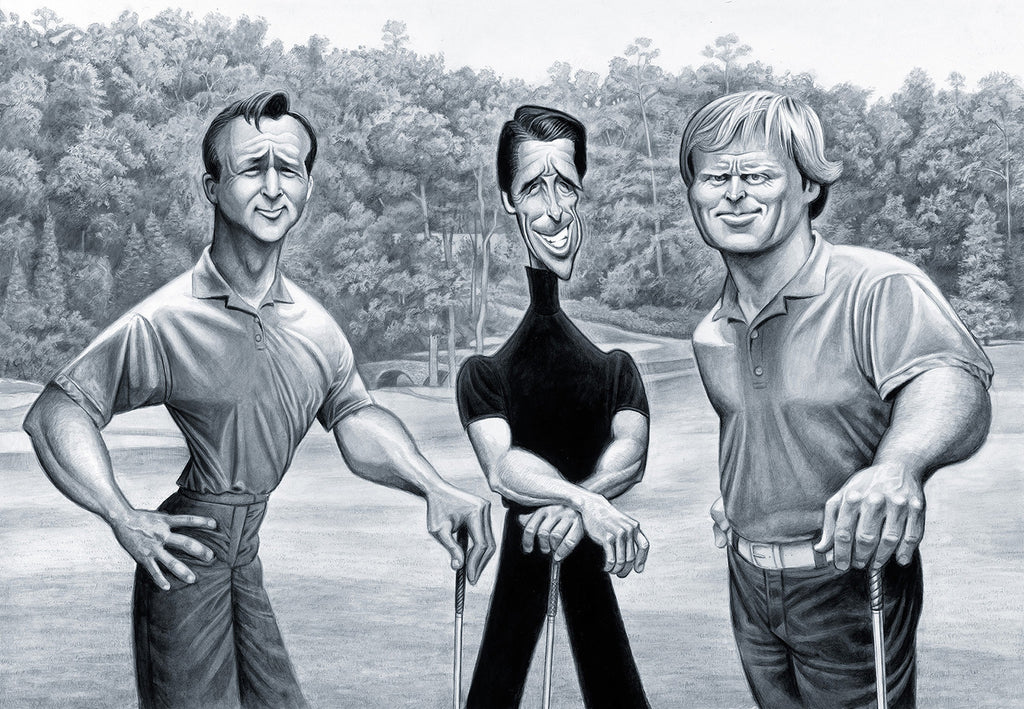 David O'Keefe
Big 3 - Tribute to Palmer, Player & Nicklaus
18"x12" Giclee on Watercolor paper, Limited Edition Fine Art Print, signed and numbered
20"x29" Giclee on canvas
26"x38" Giclee on canvas
The Big 3: David's tribute to legends Arnold Palmer, Gary Player and Jack Nicklaus.
David depicts them standing together on the 12th hole at the Augusta National Golf Course – home of "The Masters'' golf tournament – during their heyday in the 1960s. The "Big Three'' moniker was given to them by a sports agent when Palmer, Player and Nicklaus dominated the sport. While frequently competing for titles, the three became tested rivals and good friends. 
     "What I wanted to do with this portrait was somehow show the historical significance of the three of them as golf icons together,'' said O'Keefe. 
      "I took a snapshot  in my mind of this historic moment, one where if you could time travel and get all three of them at the right place and the right time and take a great picture, it would look like this.''
        "In a real snapshot of them, they would look different because Palmer is 10 years older than Nicklaus and Player is between them in age, but in my portrait they are all about the same age and in the prime of their careers.
---
More from this collection