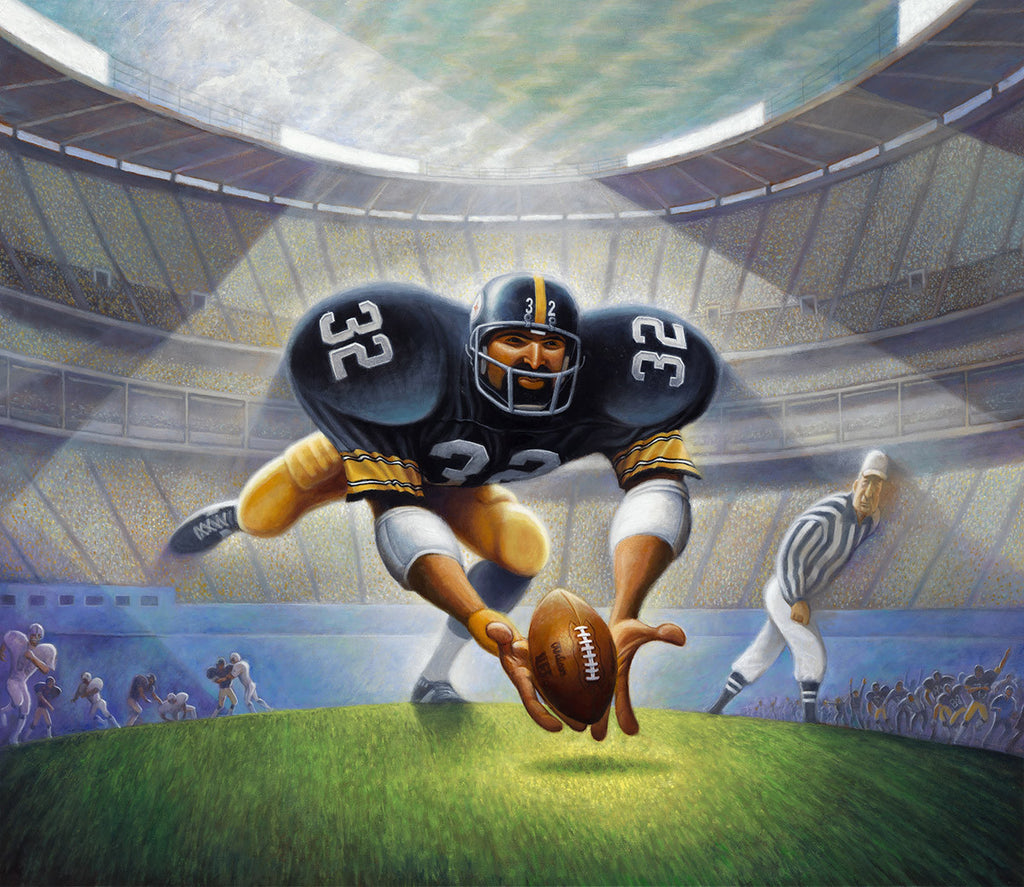 David O'Keefe
Immaculate Reception Tribute
38"x28" Fine Art Giclee on Canvas signed and numbered by the Artist, rolled.
38"x28" Fine Art Giclee on Canvas signed and numbered by the Artist and Franco
38"x28" Fine Art Giclee on Canvas signed and numbered by the Artist and stretched
December (2012) was the 40th anniversary of the "Immaculate Reception,'' the famous touchdown reception Franco Harris made in the Dec. 23, 1972, AFC divisional playoff game between the Pittsburgh Steelers and the Oakland Raiders. Even though it's still controversial, there is probably no better-known play in all sports and NFL Films has chosen it as "the greatest play of all time.'' So I was really honored when Harris contacted me about doing a painting of it. 
He worked a lot with me on it and we decided to concentrate on the most important part of the catch – him getting to the ball before it hit the ground. It is set at the old Three Rivers Stadium in Pittsburgh. I took some artistic license with the exact incident and who all was positioned where, so the other players are set further back than they actually were, and the viewer's eye goes straight to Harris with his hands on the football. He's boxed in by light in kind of a diamond shape, with the light coming from the sky above the stadium. 
That seems to go well with the nickname given the play – after a religious dogma - like there was divine intervention for the Steelers that day. "The Immaculate Reception'' was first used by a caller to a Pittsburgh sports radio show the day of the play and it really stuck. All of the other controversy over whether the throw from Terry Bradshaw hit a Steelers player or a Raiders player before it ended up in Harris' hands wouldn't even be up for discussion if Harris hadn't caught the ball. 
The painting was finished in time to be unveiled in Pittsburgh during the 40th Anniversary celebrations Dec. 22 and Dec. 23. The events included the dedication of a monument at the exact site of Harris' reception (the old stadium has been torn down). It's very cool for me to know my painting was part of this historical event.
Franco Harris has kept the original and reproductions of it are already very popular with Steelers fans. Even though the Steelers didn't end up going to the Super Bowl that year, the play is considered a big turning point for the team that went on to win four championships by the end of the 1970s.