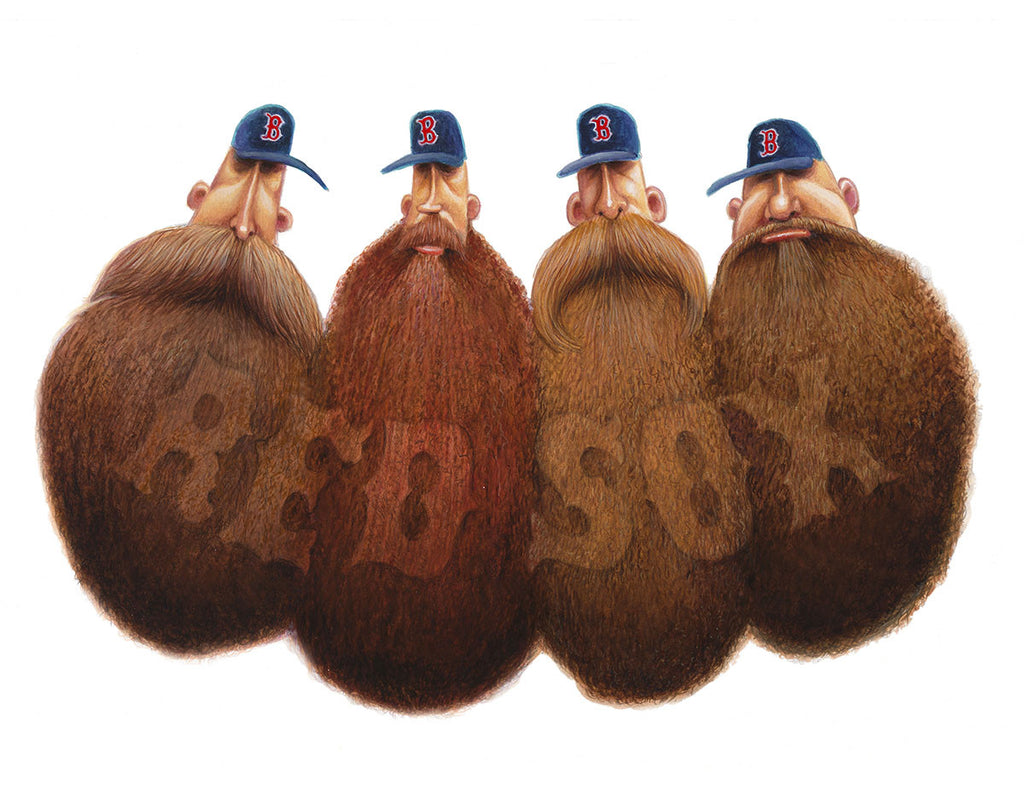 David O'Keefe
Beard to Beard
22"x12" Limited Edition of 95 Fine Art Print on Water Color paper signed and numbered by the Artist.
The idea for this piece came to me as I was watching a replay of one of the World Series games and they showed one of the Boston Red Sox players hit a home run. When he came around to home plate, a bunch of his teammates came to congratulate him and with the beards they've all been growing this season, they all looked the same. It looked like it was a photoshop of the same person doing everything. 
I thought it would be cool to show them as a team of bearded guys. These are not specific players, they are four individuals who make up one bearded team. 
The way I understand it, one of the players started growing a beard during spring training in Fort Myers, FL,  and encouraged the others to grow beards as a bonding exercise and a symbol of teamwork. And it worked. They were in the cellar last year, when they all came together as a team they went from worst to first.
The faces of the four players are similar, yet a little different. Working on the beards that blend together and say "Red Sox'' was a little tedious, drawing all those little hairs in the beards.  There are eight total colors in the beards because each beard has two colors. No two beards are alike, yet in a cluster they appear uniform - just like the Red Sox did this year.
I decided to have 95 in the limited edition since it had been 95 years since the Sox won a World Series at Fenway Park. The Curse of the Bambino is now completely over!