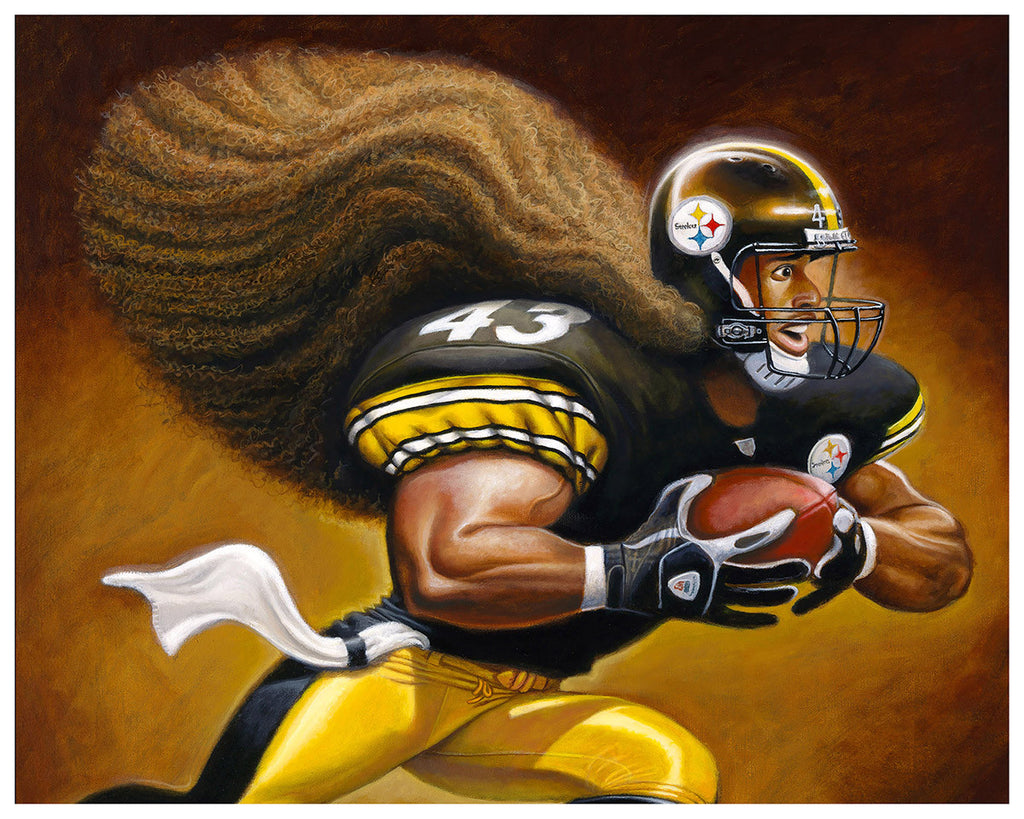 David O'Keefe
Tribute to Troy Polamalu
30"x30" Fine Art Giclee on Canvas signed and numbered
30"x30" Fine Art Giclee on Canvas signed and numbered and signed by Troy (SOLD OUT)
Ever since Troy Polamalu started playing for the Pittsburgh Steelers in 2003, I've really admired him on and off the field. He had an immediate impact on the NFL, his playing ability stood out, but his long hair is what really brought attention to him. 
I had been sketching him for years, trying different positions and angles, and then I came up with this idea of doing a diagonal of a square painting. I wanted the juxtaposition to be half hair/half Troy. So, if you look at this painting, you'll see it's a diagonal. One-half of the diagonal is his hair and the other half is Troy's body.
After I finished the painting, I was invited to spend a day with him at a charity golf tournament and I learned he is a true gentleman and just a really, really nice guy.
He is a convert to Orthodox Christianity and his strong faith is one of the big reasons I like him so much. He's been a great witness to his faith and he often speaks of the role his spirituality plays in his life. He is known for his aggressive, hard-hitting style on the football field, yet off the field he's considered one of the nicest players. His USC college teammates voted him "Most Inspirational Player'' and I think that truly defines him both 
professionally and as a person.
Have a few signed by Troy, please inquire.
---
More from this collection