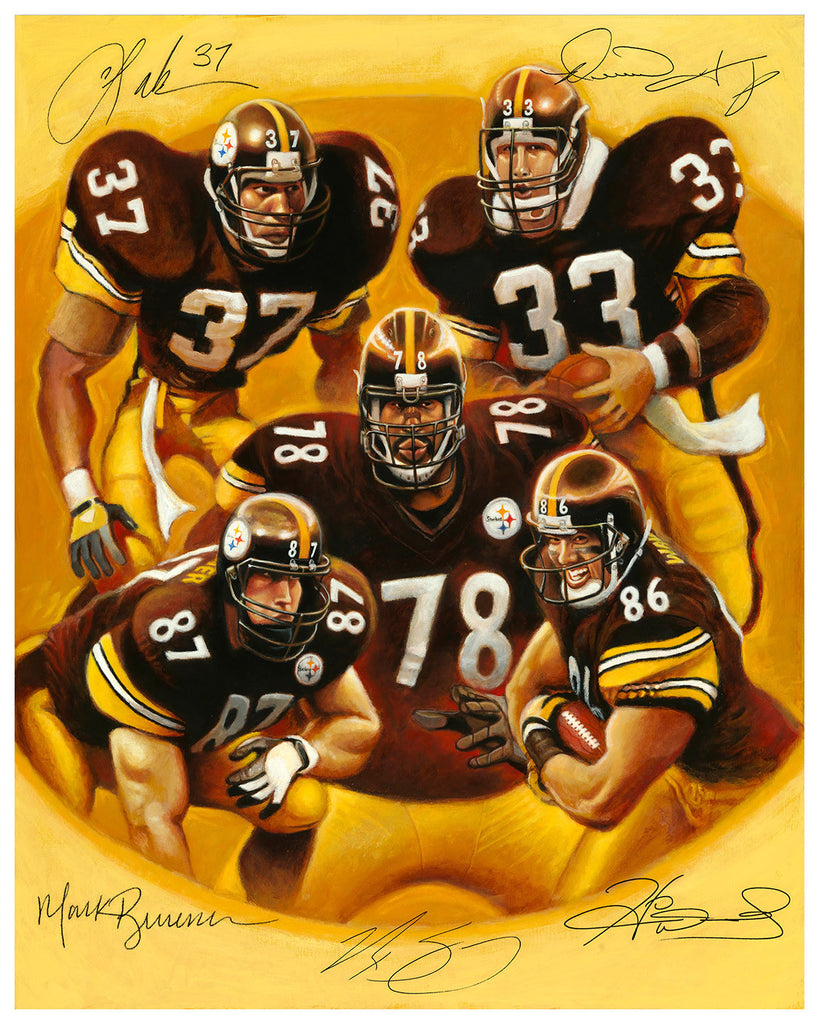 David O'Keefe
Five Guys - Steelers Tribute
Oil on Canvas, Signed by all five Steelers and the Artist.
This painting is a tribute to five Pittsburgh Steelers players who all had successful football careers and are now involved in a charitable organization that reaches out to grieving children and their families in several Pennsylvania communities. The Highmark Caring Place is a non-profit I've become involved in too, through my paintings of Steelers that have been auctioned off to raise money for the charity. 
The "Five Guys'' are:
   Merril Hoge (#33), who is on the top right of the painting and was a running back for seven seasons for the Steelers, from 1987 to 1993.
   Max Starks (#78), an offensive tackle who is in the center of the painting and played for the Steelers from 2004 until 2012.
   Hines Ward (#86), a wide receiver who set all sorts of team records from 1998 until 2012 and was MVP of Super Bowl XL. He is on the bottom right of the painting.
   Mark Bruener (#87) who played from 1995 until 2003 as a tight end and is on the painting's bottom left.
   And Carnell Lake (#37), a safety and cornerback for the Steelers from 1989 to 1998 who was a member of the NFL 1990's All-Decade Team and is on the top left.  
I thought about the best way to paint the five together and decided a circle would be good for a group composition. I really went with what I call my Pittsburgh Palette - shades of black and gold. This is my fourth Steelers-related work and it is all due to my experience as a 12-year-old budding artist, when I met Franco Harris at an event, drew a caricature of him and he autographed it. I really admire all of these guys as athletes and as men who care about the Pittsburgh area, especially the children in it. 
---
More from this collection